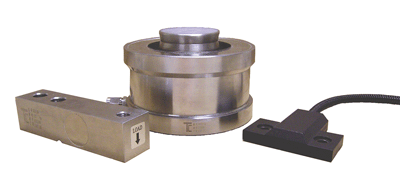 TC Process offers both standard and custom solutions to all your load cell requirements. Our standard range of Stainless Steel Ring torsion RTC and shear beam BLS are an excellent solution for silos, weighbridges and hoppers. Our custom solutions include load cells designed for specific applications, OEM or private label arrangements and repair/remake of cells no longer made.
For capacities from 10 ton to 100 ton with accuracy of 0.05%, the RTC load cell is constructed from IP68 hermetically sealed Stainless Steel and features a ring torsion design which makes it ideal for applications susceptible to side loads (such as wind forces on silos), as the internal construction does not measure the force in the same plane as the load.
The compact mount model CMR offers trouble free application of load cells. The CMR compact mount is self centering to ensure correct introduction of the measured load to the load cell and features an elastomer mount, allowing for thermal expansion of the measured structure (bin, hopper, etc.). The unit includes self contained side and lift off protection for ease of application.
For capacities 500kg, 1000kg and 2000kg we offer the BLS shear beam load cell. The BLS is a stainless steel, 6 wire, hermetically sealed load cell. When combined with the BLM mount, makes an ideal solution for platform scales, small silos and batching scales.
For measuring level and strain in hoppers, silos, bridges, cranes, vehicles and oil rigs we offer the highly reliable and cost effective bolt on strain gauges. The range includes both the two hole standard and the unique temperature compensated three hole design.
DATASHEETS (Adobe pdf format)
TCD0003GB - Ring torsion load cells model RTC
TCD0006GB - Compact mounts for ring torsion load cells model CMR
TCD0010GB - Shear Beam Load cells BLS and mounts BLM
TCD0009GB - Bolt-on strain gauges