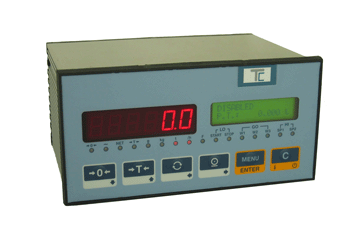 The GWS is a highly accurate static and continuous weigh controller. The GWS features a large 8 segment LED display and secondary 2 line backlit LCD display with a IP65 keypad which offers simple programming and setup.
The GWS is suitable use with:
Belt weighers
Weighfeeders
Loss-in-weight or gain in weight feeders
Flow meters and flow feeders
Hopper scale and batching/loading applications
The system unit is designed to be panel mounted with all field cabling. The optional display unit is then mounted in the front of cabinet, or can be attached only when calibration or commissioning is required. The system unit features a system accuracy of better than 0.05%, 16 front status LED's, 3 digital inputs, 5 digital outputs, 1 analogue input and 2 analogue outputs. Programming includes set-up (first run) program, calibration programs (tare, span and speed calibration) and self diagnostics.
The display unit offers an IP65 front-of-panel mounted local display and programming keypad. The unit features 2 x 16 line dot matrix display with brightness control, 6 key tactile touch keypad and 16 status LED's.
DATASHEETS (Adobe pdf format)
TCD0008GB - Continuous and Static weigh controller - GWS