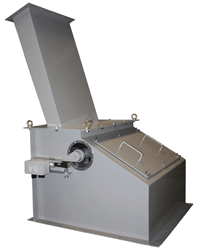 Compact, dust tight and low maintenance, the flow meter is ideal for cost effective flow measurement in the harshest industrial environment. TC Process offers both the simple impact plate flow meter design and the defection plate principle, favored for very fine dusts and meal.
The units can be supplied with the standard stainless steel measuring plate or optional P80, ARS360 or Teflon coated stainless. Internal wear linings are also available. All units include test weight receptors for ease of routine calibration.
Units can be supplied as a package with optional pre-feeder as a feeding system ideal for continuous feeding, batching and truck loading applications. Pre-feeders can be existing vibratory feeders, star feeders (rotary vane feeders), flow control gates or shut off gates.
DATASHEETS (Adobe pdf format)
TCD0004GB - Solids Flow Meters Model TFM