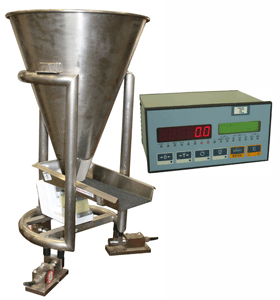 With more than 20 years of exprience in the design and application of loss in weight feeding systems, TC Process offer both the standard, GVF feeder or models custom designed to your requirements. The loss in weight feeders can be configured via the controller for continuous gravimetric feeding (LIW feeder), batch feeding and loss in weight feedrate measurement.
The standard GVF range features three feeder modules from 20 litres per hour (l/h) to 5000 l/h and three weigh hoppers 80, 200 and 350 litres. Our unique double ended shear beam load cell allows either 2 point (standard) or 3 point weigh hopper support, reducing cost with no reduction in weighing accuracy. The feed unit is a vibratory feeder which can be supplied with open pan (pictured) for granular and non-dusty products or totally enclosed, dust tight, tubular design.
Custom models can feature a choice of feed units, including screw feeders, star feeders (rotary valve), belt feeders and dosing control gates. These units can be custom engineered to suit material and plant requirements.
DATASHEETS (Adobe pdf format)
TCD0011GB - Continuous Loss-in-weight feeders model GVF