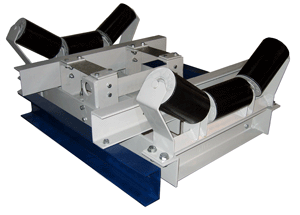 Australian designed from more than 12 years of experience in the design and application of belt weighers.
For simple control applications we offer the single idler MBSX. The MBSX features two stainless steel double ended shear beams mounted in a simple stringer mounted assembly. The unit is shipped complete with all mounting bolts, cable junction box and features in built speed sensor option. The units are stocked at our works and can be dispatched within 24 hrs, with shipping weight less than 25kg.
The Modular Belt weigher system offers a common solution for single idler weighers to highly accurate multi idler weighers. The modular design allows a common weigher design which suits a wide range of conveyor widths and accuracy requirements and should the requirements change, the weigher can be easily relocated or reconfigured.
The MB series feature a fully floating weighbridge that is restrained against the movement of the conveyor belt by a system of parallel stainless steel leaf springs with require no routine maintenance or adjustment. The unit features a stainless steel load cell with overload protection mounted under the weigher, protected from falling debris material build up. The design allows the simple addition of calibration weights, both manually applied to the weigher and stored in convenient test weight receptors, or, for the test weights exceeding 25kg, the calibration weight is applied via lever arm actuation. As most gantry conveyors only have access walkways on one side, the calibration weigh systems, manual or lever arm only require access from one side.
To ensure the correct application of all our belt weighers please refer to our Application and Installation recommendations for single and multi idlers belt weighers, TCM0002GB, our contact us to arrange one of our engineers to review your specific application.
DATASHEETS (Adobe pdf format)
TCD0014GB - Single idler belt scale model MBSX
TCD0007GB - Modular single idler belt weigher model MBS
TCD0002GB - Modular multi idlers belt weigher model MBD